Legion Barricades Tutorial
Prep:
One thing I learned is you always must prep any model or figure you are going to paint. For this project I decided to start with removing as many of the mold lines as I could. These are prevalent on the tops and sides of the barricades. While not super important, I felt they took away from the look of the barricades. I just used a few sanding sticks to clean them up as best I could. Once that was done I washed them in hot soapy water and let them dry.
Step 1: Prime
I used Humbrol Grey Primer. Just about any primer will do. I chose to use grey because the barricades base color would be grey and this would save me a step. If I had used another color such as black or white, I would have had to eventually base coated them grey.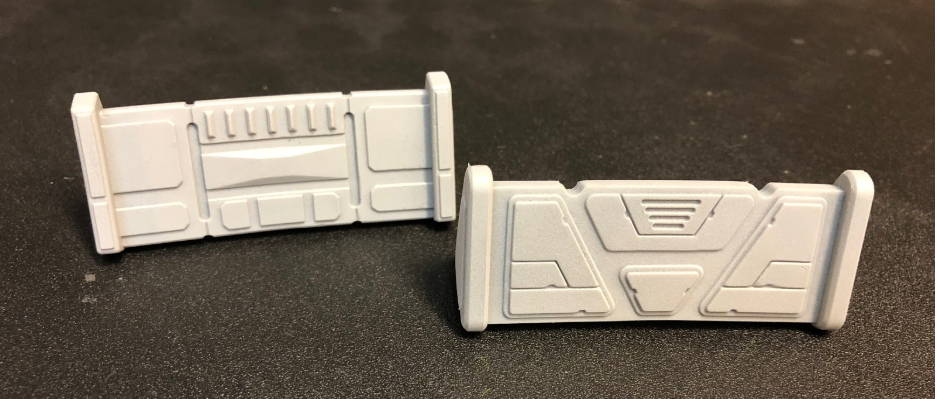 Step 2: Pre-Shading
I took about my airbrush and thinned some Microlux Grimy Black. I painted the recesses and details of the barriers with this. The idea here is, once this is done you go back and mist over the barrier with a mix of the base color and it creates some depth and soft panel lines.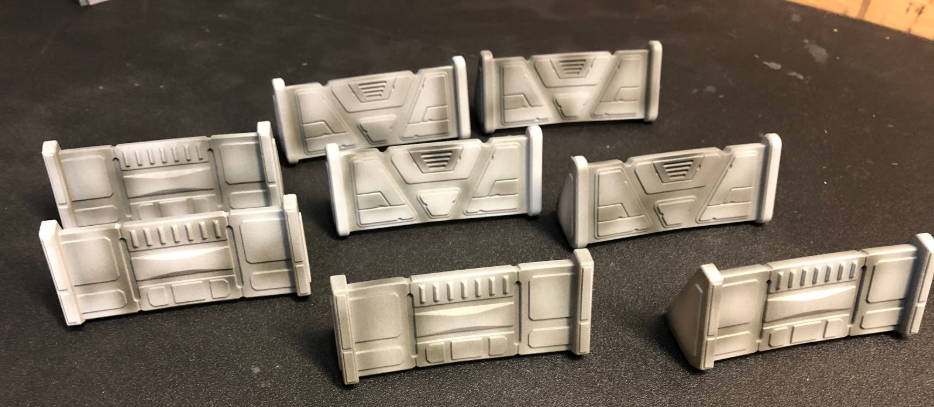 Step Three: Base Color Application: Misting
I did not want to use the rattle can for this, so I mixed up some Vallejo Air Base Grey and Light Grey to get an approximation of the base primer color. I went a little lighter as I wanted the pre-shading to show through a bit, understanding that the washes and weathering I was going to apply would darken the color even further. At this point, if you wanted to, you could go back and pre-shade again to make the transitions darker, but I was happy with the results.
Step 4: Washes
For this step I used three stages of washes. Each stage was diluted with Lahmian medium. I thin down the washes as I find them easier to control and I can build up the tones that I want.
The first stage of the wash was a 1:1 mix of Earthshade and Nuln Oil, diluted with a few drops of Lahmian Medium. I used a large brush and cover the barricades with this. Next was Earthshade, followed by Nuln Oil. For the last wash I focused on the panel lines and grooves rather than cover the entire barricade.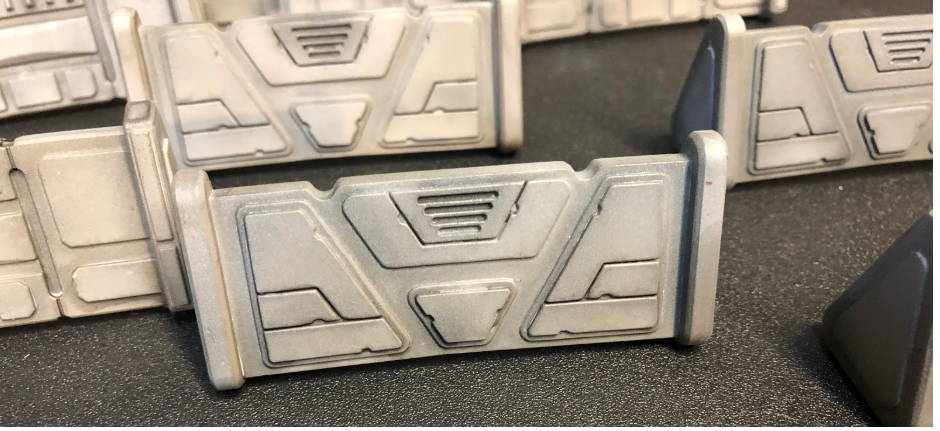 Step 5: Chips and Dings
I always keep some of the foam inserts from miniature packs for painting purposes. I have even purchased some sponges from the craft store for the sole purpose of created chips and nicks in the paint. This is a easy step, and the rule here is less is more. It is very easy to go overboard here, and if you are not happy with results, you have to start over again.
For the sponge, I cut off a piece that is big enough for me to hold, and then I pluck apart the end I am going to paint with to get some variation. I used thinned black paint, and once I applied it to the sponge, I dabbed it off on some white paper to see what the effect would look like. To apply on the barricade I chose areas where wear and tear might occur. There is no method here, just apply to areas where you want to apply damage. Go sparingly, you can always add more later.  
When applying you can press harder and lighter in areas to get different tones with the paint. As the paint wears off, the applications will get lighter which give the barricade a nice used effect.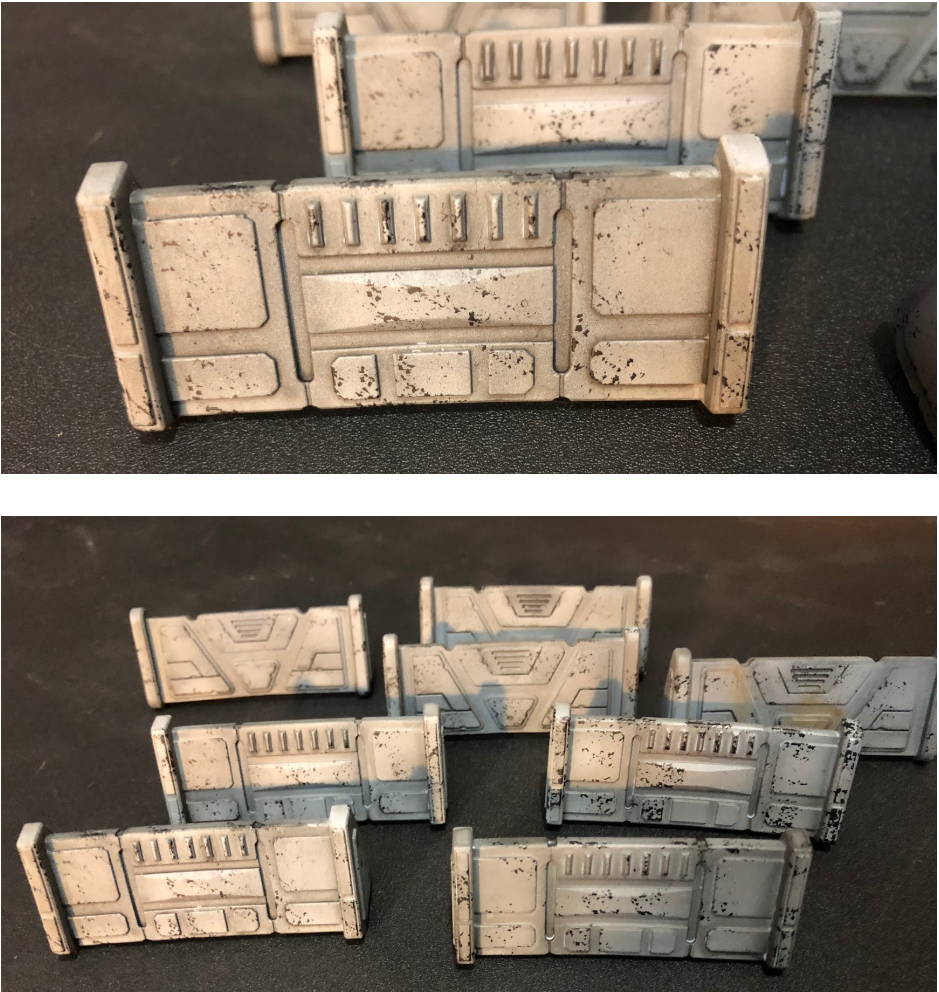 Step 6: Streaks and Weathering
This is where they get grimy and dirty. I used A&K Interactive Streaking Grime and Odorless Enamel Thinner. This is a pretty simple process. Do not worry about messing this up, because the thinner will remove your mistakes and as well as add some color definition to your barricades.  
The first thing I do is I paint a little bit on an area I wish to show streaks.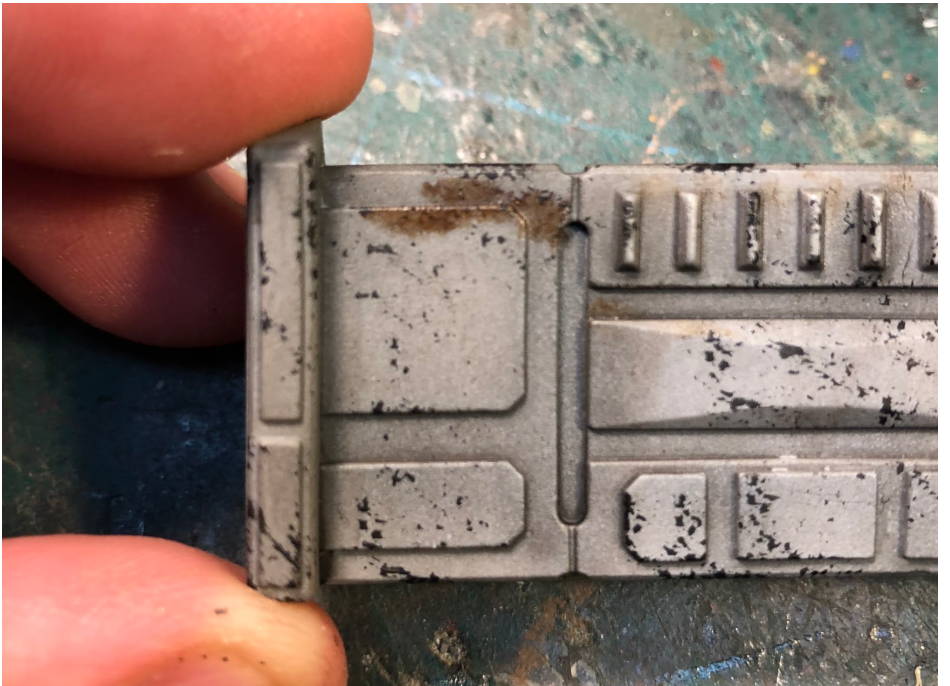 Next I take my second brush and dip it in the thinner, removing excess on a paper towel. I simply pull down the area I just painted to give the streaks.
You can also add more the Nuln Oil and Agrax Earthshade here as well.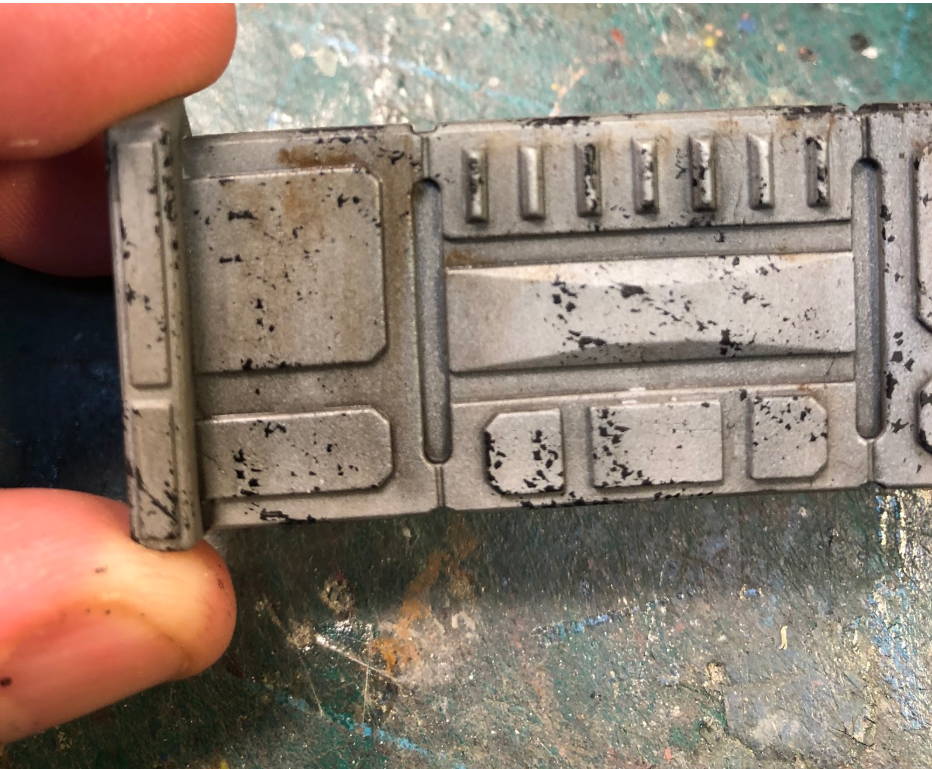 It is that easy. I added some grime to areas and just thinned it out to create different tones on the barricade. All of it added to the weathering effect.
Have some fun with this. If you feel it is getting too much, you can always add more thinner and brush it out. You can also add more to the same area to make it more prominent.
Step 7: Dry-brushing and Sealing
During this tutorial, we have only focused on the front of the barricades. Make sure you follow the same steps for the back of the barricades as you are painting the front.
If you are done with your weathering and you want to add some accent highlights, you can go back to your original color (the mix of greys) and lightly dry-brush the entire barricade. Once you are done with that, seal your barricades with a matte clear coat. I used Humbrol Matte Varnish in this case.
That is it! Now you are ready to deploy the barricades in your board! Have fun!