[ DESERT STANDARD BUNDLE ]
---
We built the Desert Standard Bundle to be the perfect compliment for skirmishes on board sizes of 6' x 3'. This is a simple tactical analysis of a single terrain deployment method.
---
---
32mm Scale Terrain

Designed for Wargaming & 3D Printing

Played with Star Wars™: Legion - 40K - Infinity

Custom Scales available - Contact Us
In "standard" matches, units are typically deployed traditionally along the edges of the playing field, as depicted here. However, in some games certain deployment condition cards can influence deployment zones. We deployed the terrain in this example to demonstrate the volume of terrain and its map coverage as well as the tactical benefits.
Points to consider:
Larger battlefield can play wide variety of army sizes including all vehicles

Victory Conditions (Objectives / Complete Annihiliation / Etc)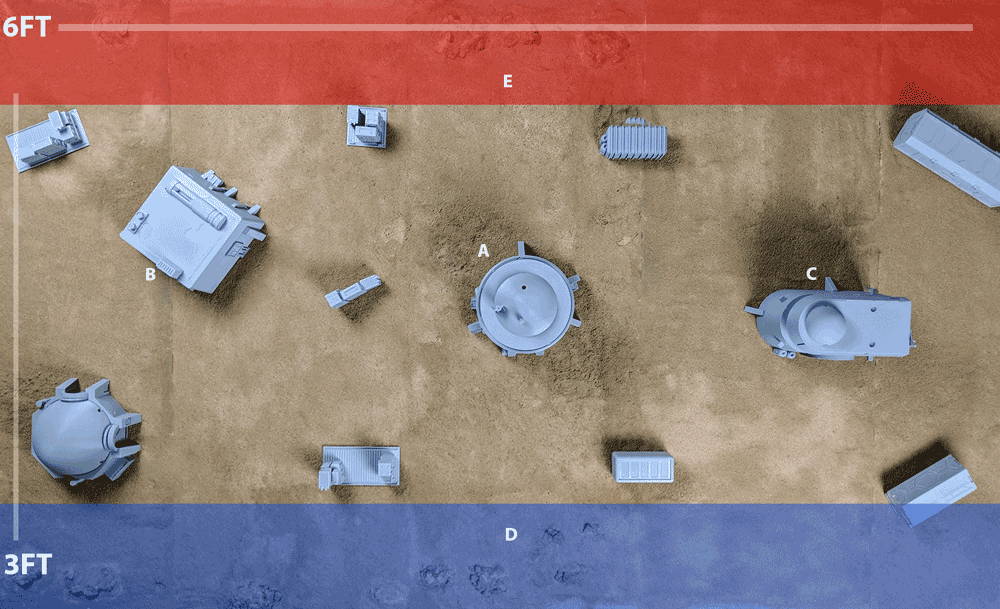 POINT A: Desert Tower - Critical Center of Map LOS break / Trooper Protection
POINT B: Urban Dwelling - OBJ Location, Elevated Postion for Troopers
POINT C: Mechanics House - Key LOS Blocker / OBJ Location / Elevated Position
POINT D: Blue Player Battle Lines - Access to 4 Positions
POINT E: Red Player Battle Lines - Access to 4 Positions
[ DESERT STANDARD BUNDLE ]
What's Included:
1x Small Desert Home
1x Desert Urban Dwelling
1x Desert Tower
1x Set of Cargo Pallets (4 total pieces as seen on Battle Map)
1x Mechanics House
1x Set of Cargo Containers (4 total pieces as seen on Battle Map)
2x Ladders